Compliance
Transparency
BC Partners is committed to the highest standards of transparency and reporting. We aim to be open and timely in our communications with all stakeholders. BC Partners LLP ("BCPL") has voluntarily agreed to conform on a "comply or explain" basis with the Walker Guidelines for Disclosure and Transparency in Private Equity as part of its commitment to incorporating environmental, social and governance issues into its investment process. BCPL also seeks to promote such conformity on the part of any portfolio companies which fall within the scope of the Guidelines.
History
BC Partners has maintained a strong and stable partnership since it was established 35 years ago. By adhering to its founding principles, BC Partners has grown and evolved, along with the development of the private equity market in a deliberate, disciplined and conservative manner. These founding principles are embedded in the mindset of the leaders of BC Partners.
Investor base
The charts below give an indication of the approximate composition of the breakdown of the overall investor base (excluding commitments by general partners and BC Partners affiliates) for its funds which have a mandate to invest in the United Kingdom.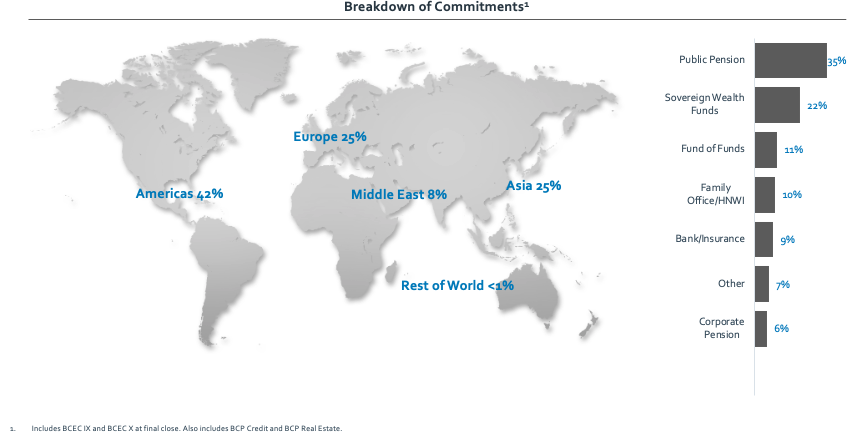 Conflicts
BC Partners recognizes that on occasion, conflicts of interest may arise. In order to ensure that such conflicts can be resolved in an appropriate manner, BC Partners adheres to the following principles:
Identified conflicts should always be escalated

The interests of investors and funds come first

Means through which conflicts can be mitigated include:

-avoidance
-disclosure to affected person, and
-acceptance from affected parties.

BC Partners must act in accordance with the letter and spirit of its agreements with investors.